stole the idea from
theheaven
, but instead of 10, I'm doing 15
because I'm the BIGGEST DRAMA ADDICT EVER.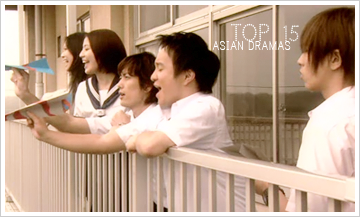 WINTER SONATA
KDRAMA ; 20 EPISODES
one of the first dramas I watched ever :)
classical Korean drama storyline, love triangle with a hint of amnesia.
but with a twist 8)
some parts / episodes are really slow though. . . .



TATTA HITOTSU NO KOI
JDRAMA ; 10 EPISODES
I LOVED the story of this one. . . . BUT
I loved Kame's acting in this even more ♥
and lastly, I liked how this drama ended happily & not too rushed.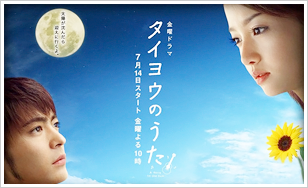 TAIYOU NO UTA
JDRAMA ; 10 EPISODES
such a cute drama :D :D
the first couple of episodes are blah, but when it really gets into the whole storyline it's hard to stop watching it. x)
oh. and the songs the main character sings are catchy, yet pretty at the same time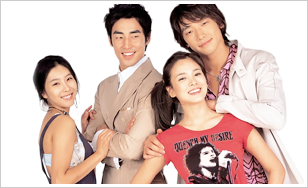 FULL HOUSE
KDRAMA ; 16 EPISODES
this is like a CLASSICAL MUST WATCH!
the storyline was really awesome & the main characters. . . . wow. :3
PLUS : RAIN C:



MY BOSS, MY HERO
JDRAMA ; 10 EPISODES
3 JE GUYS. 1 DRAMA. ♥ OH SO MUCH LOVE.
also, Aragaki Yui's sooo cute in this one. :3
I seriously LAUGHED MY BUTT OFF in this one.
MUST WATCH FOR PEOPLE WHO SERIOUSLY NEED TO LAUGH. 8DDD;



PAPA TO MUSUME NO NANOKAKEN
JDRAMA ; 7 EPISODES
freak friday plot with a tiny twist?
the ONLY bad thing was that it was too short
and that Shige only appeared during certain parts ;3;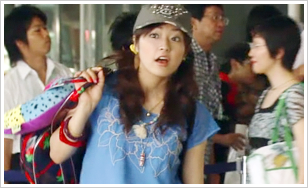 FIRST KISS
JDRAMA ; 11 EPISODES
Inoues's so cute in this. x)
oh & I love seeing Hiraoka Yuuta in dramas as completely different characters.
I like the storyline too, very interesting. . . .



NOBUTA WO PRODUCE
JDRAMA ; 10 EPISODES
YAMAPI & KAME. that's all that needs to be said. :)
JK. but I'm a sucker for school-dramas & this is PACKED filled with all sorts of genres.
horror, romance, comedy & action & yamapi/kame powar * A *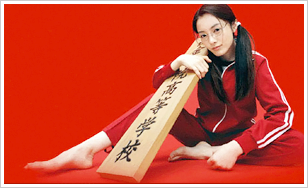 GOKUSEN 1 & 2
JDRAMA ; SEASON 1: 12+SP / SEASON 2: 10+SP
ohohoho. so many pretty boys in this one.
I think season 2 is better, because of Akame & Teppei ♥
also, I love the story. it's really unique. 8D



1 LITRE OF TEARS
JDRAMA ; 11 EPISODES
omg. the best sad / serious drama I've ever seen.
I think everyone should watch this one, since it really gives off a strong message.
this is like a SUPER must watch.
PLUS. there's Ryo. * A *



IT STARTED WITH A KISS
TWDRAMA ; 18 EPISODES
my first Tawainese drama ever. :)
it's sooo cute & I couldnt stop watching it.
it's really funny too. 8D;



PROPOSAL DAISAKUKEN
JDRAMA ; 11 EPISODES + UNSEEN 12TH EPISODE
a great drama with everything in it. ♥
Yamapi, romance, comedy, time-traveling, fairies and all the good stuff in between C:
only flaw? the ending was wayyy to rushed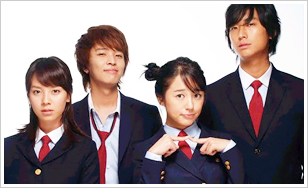 GOONG
KDRAMA ; 24 EPISODES
omg. <333
the music's good, the storyline's great, the acting's even better,. . . .
and the actors / acteresses are just awesome. x)



HANA YORI DANGO 1 & 2
JDRAMA ; SEASON 1: 9 / SEASON 2: 12
both season's episodes made you want to watch the next one & the one after that!
the characters are cute too ~
oh. and it has like the. . best ending, evar ♥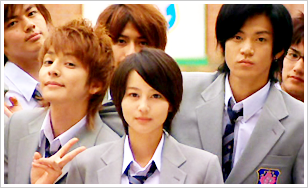 HANAZAKARI NO KIMITACHI E
JDRAMA ; 12 EPISODES
soooooo many pretty boys. * A *
romance, horror, action, comedy, crack
it's perfect.
after watching a episode, I would wish it was Tuesday again, so that the next one would come out. XD;
ohohohohoh ♥
oh. if your wondering why a certain drama isnt up here, it's because I havent had alot of time to watch it & or download it.

STILL NEEDS / WANTS TO WATCH, SO ISNT IN THE LIST. LIST
LIAR GAME
Coffee Prince
Over the Rainbow
Yamada Taro Monogatari
Goong S
1 % of anything
Witch Yoo Hee
Hanayome to Papa
Kurosagi
Spring Waltz
Devil Besides You
Bad Family
& more
any recomendations?? *shot*

LOL. I have no life? (:
& btw. I recommend ALL these dramas, so go off and download them :D
in tune: ai otsuka ; PEACH